Spirit-led Community
27 April, 2018

-

29 April, 2018
Rudolf Steiner declared that from the twentieth century onward all human beings would be able to develop a new kind of capacity: a capacity to have knowledge of the outcome of the paths that lay before them—a capacity that would enable us to foresee the inner results of the various choices that lay before us, before walking down one or another path. However, this capacity of foreseeing would need to be preceded by an essential step in human development—a step that constitutes the next stage of evolution for the human being. This step would be the awakening of the higher self, which he also described as the recognition of the "second self."
In the twenty-first century, we are beginning to see this new stage of development emerging on a wider scale. Many individuals are waking up to the higher 'I,' to the second self.  In this workshop we will explore this path of development, and the possibility of individuals coming together in freedom to build new community forms that create, support and ennoble humanity.
For most of us the notion of our inner liberation and our true freedom lies in our inner world of our capacities for thinking, feeling and self determined will. Discovering how unfree in fact we are has always been one of the necessary awakenings of the inner development path. The foundations of both inner freedom and unfreedom are greatly influenced in child development. Our patterns of thinking our feelings and our will impulses are directly influenced by the community in which we grow. With the rise of technology permeating extensively our outer lives we are now being faced with its effects on our inner lives and its artificial influence over the development of thinking, feeling and will impulses. Technology is forming our communities future and in doing so extending its persuasive influence into the inner capacities of its members.
We need to be ready, as a collective humanity, with capacities—with the necessary inner strengths—to freely choose the community life that we determine to be in need of propagation. We need to establish communities that are dedicated to human freedom—communities in which community health, child education, and social life are imbued with impulses supportive of the cultivation of human freedom.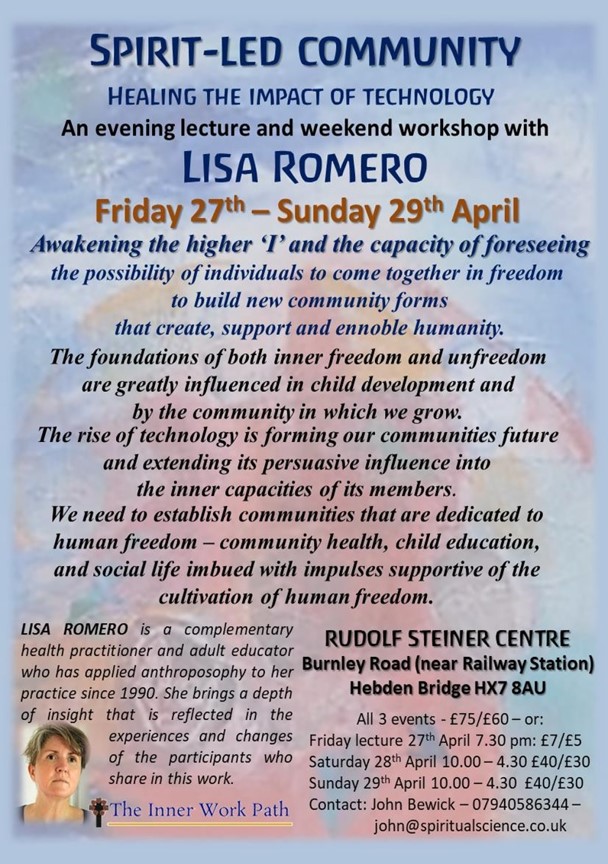 This course is open to anyone.
Friday 7:30pm – 9pm; Saturday & Sunday 10am – 4:30pm
Please refer to the flyer for information on fees.
PLEASE CONTACT US IF YOU NEED HELP TO FIND WHAT YOU ARE LOOKING FOR